Bette Worley Student Achievement
Award Winners for the NSE
Exchange Year 2006-2007
Claire M. Landowski
University of Arizona to University of Washington 2006-2007
Major:
Geosciences/Journalism

Claire went to the University of Washington in her senior year to take advantage of the oceanography program. She wrote a research paper on the effects of anoxia on Hood canal. Based on her performance she was invited to enroll in an Oceanographic Field Experiments course designing an experiment investigating three unusual features of the bathymetry of the seafloor near Ediz Hook. Her winter quarter class work earned her an invitation to join a group of researchers working on a National Science Foundation grant in Antarctica to study the relationship between glacial retreat and the rate of sedimentation in fjords near the ice which included a five-week cruise along the Antarctic Peninsula. Claire was also the co-editor of the Oceanography Department's undergraduate magazine, Depth.
---
Jannisse J. Figueroa - Gay
University of Puerto Rico, Mayaguez to University of New Hampshire 2006-2007
Major:
Chemical Engineering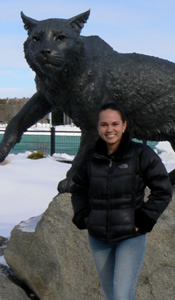 As a junior, Jannisse used her experience in engineering to become part of a team of students who worked to get several buildings of the University of New Hampshire the Energy Star rating given by the Environmental Protection Agency (EPA). Using EPA software the team conducted energy audits. They were able to get the first academic building built in 1910 energy star rated. Now there are eight buildings on the UNH campus that are energy star rated. Jannisse is a Hispanic woman in the sciences who made a difference on a predominantly white campus.
---
Athaliah Edwards
University of the Virgin Islands to SUNY Plattsburgh 2006-2007
Major:
Business Administration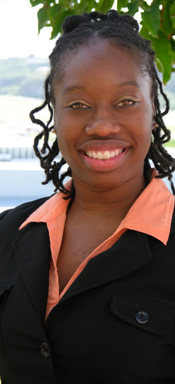 Athaliah was on exchange during her junior year and on the Dean's List each of her 18 hour semesters. Focusing on marketing while involving herself in the life of the Plattsburgh campus she was inducted into Alpha Mu Alpha National Marketing Honor Society. That honor was the result of academic excellence in the marketing division. She became Vice President of Membership for the Plattsburgh State Collegiate American Marketing Association, co-chairing Plattsburgh's 21st Annual Champy Advertising Awards and conducting and analyzing marketing research on awareness and poverty in Clinton County for JCEO. In addition she was part of the advertising team that presented the advertising campaign for American Cancer Society's Plattsburgh Relay for Life and researched a project to observe consumer behavior at the Financial Aid and Student Accounts Office. On campus she performed with the Jedi Dance Team for Take Back the Night. She followed her exchange with a summer Internship in Creative Product Development in NYC at Croscill Home fashions.
---
Honorable Mention
Daarina R. Farooq
Texas A&M University to Tennessee State University 2006-2007
Major:
Speech Communication
Daarina used her junior year on exchange to become involved in a variety of student activities and making important contributions to the campus culture. She was the Special Events Chairperson for the NSE Campus Organization and a member of the Muslim Student Association. She presented the first Campus Love Jones: a Poetic Affair, showcasing poetic and musical talents of students, faculty and members of the Nashville community. She presented original poetry entitled "Twenty-one and Married" winning 1st place in one talent show and 2nd in another. She also won the grand prize in BET's College Campus Tour Def Poetry jam. She was the moderator of the Great Debate: Preservation of Historic Jefferson Street Registered for 18 hours in the fall semester she still found time for an internship in the Tennessee State University Event and Conference Planning Office
---
Kyle Gartlan-Close
Simon Fraser University to the University of Idaho 2006-2007
Major:
Psychology
Kyle is usually working full time and too busy to do extra curricular work while at Simon Fraser University. Because he did not work on exchange during his junior year, he took the time to volunteer with two agencies in the Palouse Region of Idaho. He worked with the YMCA Y kids First Program which provides children with disabilities a safe, healthy and educational environment for after school care. Kyle focused on children with autism which was a continuation of his work with speech therapy for autistic children in Vancouver. He also worked with integrating autistic children with fully functioning children. In his other situation he was a care aide for Latah Health Services where he assisted elderly residents with a special interest in First Nation's people.