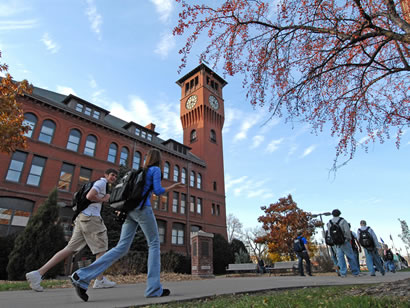 Features
Nearly all (97.8%) of grads are employed within six months of graduation.
Applied learning is demonstrated by having 3 times as many labs as classrooms!
It is distinguished by being among the 3% of universities that are polytechnic.
About This Campus
The University of Wisconsin - Stout offers the following opportunities to incoming exchange students: AFFORDABILITY. Stout is in the top 20% of most affordable U.S. higher education institutions. Student employment opportunities on campus are plentiful, as are paid internships and co-ops with our industry partners. WELCOMING & SAFE ENVIRONMENT. Ranked in the top 20 Best Small Towns in America by Smithsonian Magazine, Menomonie embodies true Midwestern hospitality. We offer a safe and welcoming campus and community environment with on-and-off campus health care services, including the number one hospital system in the world, Mayo Clinic. APPLIED LEARNING & CAREER FOCUS. Gain the real-world skills that will set you apart. Our majors are proven to lead to careers with noteworthy starting salaries and a 98.8% post-graduation employment or continuing education rate. We're all about hands-on experiences here



Location Information
Menomonie is located only one hour east of the Minneapolis-St. Paul area, close enough to enjoy all that a major metropolitan area offers, yet far enough to maintain an envied quality of life.
2022/2023 Placement
------
2023/2024 Placement
------
Fast Facts
------
| | |
| --- | --- |
| Location | | Menomonie |
| Population | | 16,500 |
| Enrollment | | 8,393 |
| Language | | English |
| Calendar | | Semester |
| Canada | | Home Payment |
Term Dates
| | |
| --- | --- |
| Fall | | 09/08-12/21 |
| Spring | | 01/24-05/11 |
Campus Diversity
------
| | |
| --- | --- |
| 1st Nation/Native | | 1% |
| Asian | | 4% |
| Black | | 2% |
| Hawaiian/P.I. | | 0% |
| Hispanic/Latino | | 1% |
| Two or more | | 5% |
| White | | 86% |
| Other | | 1% |
| International | | 0% |