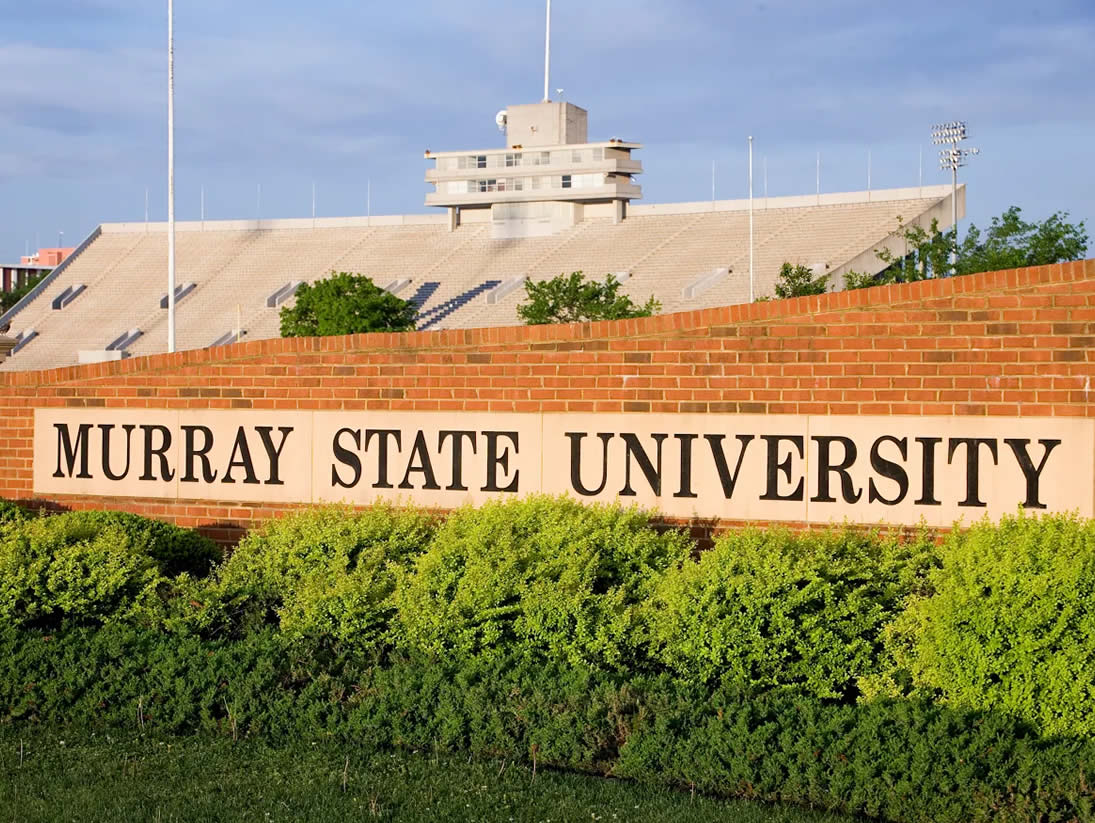 Features
Ready to become a Racer?
Find your future.
We have something for everyone!
About This Campus
Murray State University is a highly accredited university located only a few miles from the shores of two of the nation's largest lakes (218,220 acres). Students are only minutes from an exceptional recreation area. Kentucky and Barkley Lakes cradle one of the most beautiful stretches of uninhabited land east of the Mississippi, the Land Between the Lakes. This 170,000-acre national park offers endless opportunities for those who enjoy the great outdoors. Murray has a wonderful atmosphere of friendliness, conducive to higher education, and was voted one of the "Friendliest Small Towns In America" by RAND McNally in 2013. America's Best Colleges, U.S. News and World Report ranked MSU in the highest tier among southern regional and liberal arts colleges and universities. The 232-acre main campus includes 70 major buildings. MSU has a rich history of traditions including a touchdown celebration marked by a thoroughbred, Racer One, running a lap around the football field



Location Information
Murray State University is located in the heart of the Jackson Purchase area of Western Kentucky in the city of Murray, nestled in the middle of Calloway County.



Helpful Information
MSU is a great place to be, from the family-like atmosphere of the campus dining facilities, 24-hour security of Public Safety and convenience of an on-campus health clinic. We have over 150 student organizations - from the Environmental Student Society and Random Act of Kindness to the Clay Target Club, from Greek organizations to pre-professional and honor societies. There is truly something for everyone to get involved in!
2023/2024 Placement
------
Host Pay

ment
Open
Home Pay

ment
Open
Fast Facts
------
| | |
| --- | --- |
| Location | | Murray |
| Population | | 19,413 |
| Enrollment | | 9,456 |
| Language | | English |
| Calendar | | Semester |
| Canada | | Home Payment |
Term Dates
| | |
| --- | --- |
| Fall | | 08/17-12/10 |
| Spring | | 01/18-05/13 |
Campus Diversity
------
| | |
| --- | --- |
| 1st Nation/Native | | 1% |
| Asian | | 1% |
| Black | | 6% |
| Hawaiian/P.I. | | 1% |
| Hispanic/Latino | | 4% |
| Two or more | | 3% |
| White | | 79% |
| Other | | 5% |
| International | | 4% |