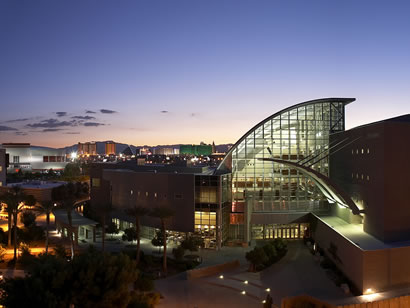 About This Campus
Since its first classes were held on campus in 1957, UNLV has transformed itself from a small branch college into a thriving urban research institution of more than 29,000 students and 3,100 faculty and staff. Along the way, the urban university has become an indispensable resource in one of the country's fastest-growing and most enterprising cities.



Location Information
UNLV's 332-acre main campus is located in Las Vegas, on the southern tip of Nevada. Within a 30-mile radius lie the shores of Lake Mead, massive Hoover Dam and the Colorado River recreation area, the snow-skiing and hiking trails of 12,000-foot Mount Charleston, and a panorama of red-rock mountains and eroded sandstone landscapes. In addition, the city is only four to five hours by car from the beaches of Southern California and the national parks of Utah and Arizona.
2020/2021 Placement
------
Host Pay

ment (A)
Open
Home Pay

ment (B)
Closed
2021/2022 Placement
------
Host Pay

ment (A)
Excellent
Fast Facts
------
| | |
| --- | --- |
| Location | | Las Vegas |
| Population | | 2,204,000 |
| Enrollment | | 30,457 |
| Language | | English |
| Calendar | | Semester |
| Canada | | N/A |
Term Dates
| | |
| --- | --- |
| Fall | | 08/26-12/15 |
| Spring | | 01/21-05/18 |
Campus Diversity
------
| | |
| --- | --- |
| White | | 30% |
| Black | | 8% |
| Hispanic/Latino | | 30% |
| Asian | | 16% |
| Native/1st Nation | | 1% |
| Hawaiian/P.I. | | 1% |
| Two or more | | 11% |
| Other | | 3% |