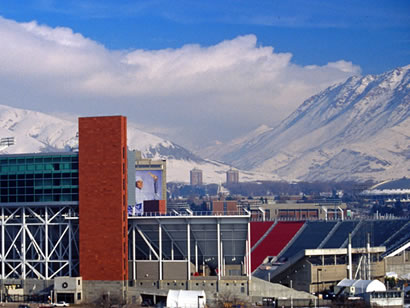 About This Campus
Spread across over 1,500 acres, the U's campus fosters a diverse set of interests and activity. Museums (serving the fine arts and natural history), gardens, concert venues, theaters, medical centers, research facilities, business incubators, modern libraries, Pac-12 athletics and a vibrant residential district all call campus home. In addition, 15 colleges and nearly 100 majors ensure that a wide variety of academic pursuits flourish in the school's classrooms and labs. Take a closer look at some of these campus experiences at the University of Utah.



Location Information
Not only do the Wasatch Mountains dominate the Salt Lake Valley's skyline, they are a haven for outdoor enthusiasts. Head a few hours south of campus for awe-inspiring arches, fields of stone spires (the likes of which cannot be found anywhere else on earth) and red rock walls that rise abruptly thousands of feet from the earth.
Fast Facts
------
| | |
| --- | --- |
| Location | | Salt Lake City |
| Population | | 1,107,314 |
| Enrollment | | 31,860 |
| Language | | English |
| Calendar | | Semester |
| Canada | | Home (B) |
Term Dates
| | |
| --- | --- |
| Fall | | 8/21-12/15 |
| Spring | | 1/8-5/2 |
Campus Diversity
------
| | |
| --- | --- |
| White | | 69% |
| Black | | 1% |
| Hispanic/Latino | | 12% |
| Asian | | 6% |
| Native/1st Nation | | 1% |
| Hawaiian/P.I. | | 1% |
| Two or more | | 5% |
| Other | | 5% |