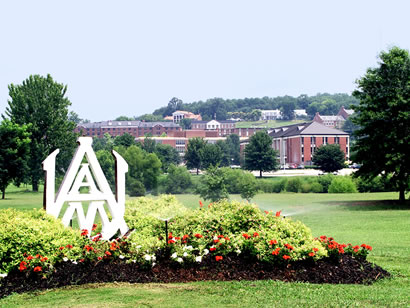 About This Campus
Alabama Agricultural and Mechanical University, established in 1875 by William Hooper Council, a former slave, is a Historically Black, comprehensive, coeducational land-grant university with a total enrollment of over 5000 students from 49 states and over 23 foreign countries. The University is large enough to offer the variety of majors (over 41 undergraduate majors) as may be found in other great universities, but small enough that the faculty, students and staff can get to know each other without anyone getting lost in a crowd. It is the only HBCU with an accredited program in food science and technology, the only university in the state with an accredited program in community planning and urban studies and one of two programs in the state with an accredited degree in Social Work.



Location Information
Quietly nestled in the foothills of the Appalachians, on 2300 rolling acres, the AAMU campus offers a breathtaking world of opportunity to grow intellectually and personally. The campus is a 5 minute commute from downtown Huntsville. It has the unique distinction of being laid out by Frederick Law Olmsted, Sr., designer of New York's Central Park.



Helpful Information
AAMU is located in Huntsville, the state's second largest media Designated Market Area (DMATM), in the mountain lakes region of North Alabama. The beauty of the area, the quality of entertainment, the variety of recreational activities are all part of the AAMU experience. On campus, AAMU provides your student with numerous activities, including 93 student organizations embracing a wide variety of activities.
2021/2022 Placement
------
Host Pay

ment
Limited
Home Pay

ment
Limited
Fast Facts
------
| | |
| --- | --- |
| Location | | Normal |
| Population | | 688,806 |
| Enrollment | | 5,859 |
| Language | | English |
| Calendar | | Semester |
| Canada | | Home & Host |
Term Dates
| | |
| --- | --- |
| Fall | | 08/16-12/07 |
| Spring | | 01/07- |
Campus Diversity
------
| | |
| --- | --- |
| White | | 13% |
| Black | | 65% |
| Hispanic/Latino | | 3% |
| Asian | | 17% |
| Native/1st Nation | | 1% |
| Hawaiian/P.I. | | 1% |
| Two or more | | 0% |
| Other | | 0% |