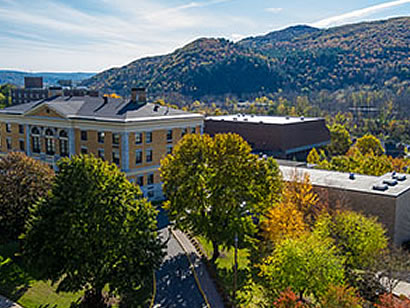 About This Campus
We are the public liberal arts college of the Massachusetts state university system. MCLA ranks high nationally for small classes (1:13 faculty-to-student ratio), innovative teaching, personal interactions with faculty, opportunities for faculty-supervised research, and a supportive, collaborative environment. Our curriculum and hands-on learning help students develop the critical thinking and communication skills needed to succeed in today's complex global economy.



Location Information
MCLA is located in North Adams, in the Northwestern corner of Massachusetts, in Berkshire County's vibrant arts community, offering great shops,restaurants, galleries, and museums within walking distance.
2019/2020 Placement
------
2020/2021 Placement
------
Home Pay

ment (B)
Excellent
Fast Facts
------
| | |
| --- | --- |
| Location | | North Adams |
| Population | | 15,000 |
| Enrollment | | 1,588 |
| Language | | English |
| Calendar | | Semester |
| Canada | | Home (B) |
Term Dates
| | |
| --- | --- |
| Fall | | 09/05-12/17 |
| Spring | | 01/23-05/13 |
Campus Diversity
------
| | |
| --- | --- |
| White | | 73% |
| Black | | 9% |
| Hispanic/Latino | | 8% |
| Asian | | 2% |
| Native/1st Nation | | 1% |
| Hawaiian/P.I. | | 0% |
| Two or more | | 3% |
| Other | | 4% |