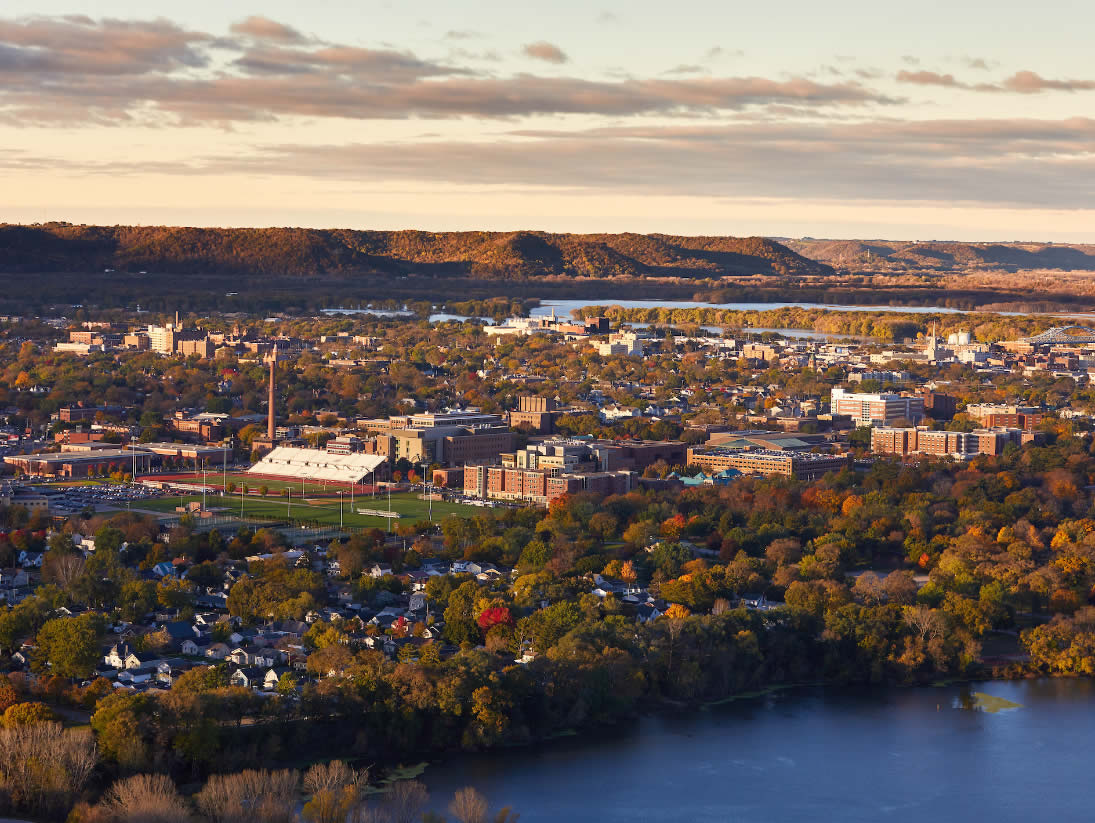 Features
#6 LGBTQ+ Friendly College Campus in the US according affordablecollegesonline
91% of classes have fewer than 50 students
#2 Archeology Program in the Nation by collegevaluesonline
About This Campus
• UWL has been consistently ranked as one of the top institutions in the U.S. News World Reports - Midwest rankings. • As a campus community of 10,000+ students, UWL offers over 100 undergraduate programs of study across multiple disciplines. Programs of study include traditional liberal arts majors, an accredited College of Business Administration, one of only 12 undergraduate archaeological studies programs in the nation (and currently number two in the nation), and one of the top 4 Therapeutic Recreation programs in the U.S. On average, the student to faculty ratio is 19:1. • With immersive programs in the residence halls and over 200 student organizations, UWL offers a multitude of activities that cater to multiple student interests or causes. • UWL is also home to a lively arts community and one of the finest NCAA Division III programs in the country. • UWL is also home to international students and community members from over 27 different countries.



Location Information
Located along the Mississippi River with abundant water, woodlands and terrain, La Crosse is famous for its exceptional natural beauty. The UWL campus is park-like, and located in the middle of a vibrant community. Most local attractions are within walking distance from campus and easily accessible via the local bus system. Students can find air and ground transportation to major metropolitan cities nearby which include Madison (2.5hr), Milwaukee (3hr), Minneapolis (3hr), and Chicago (5h).



Helpful Information
We would love to have you join our campus! We are encouraging of NSE applications and have a high placement rate. Students register during the priority period and dedicated advisors work with students on course selection. NSE students live on-campus in one of ten halls where they are able to benefit from a variety of programming. To learn more about campus life please visit https://www.uwlax.edu/info/campus-life/
2023/2024 Placement
------
Host Pay

ment
Closed
Home Pay

ment
Open
Fast Facts
------
| | |
| --- | --- |
| Location | | La Crosse |
| Population | | 52,000 |
| Enrollment | | 10,468 |
| Language | | English |
| Calendar | | Semester |
| Canada | | Home Payment |
Term Dates
| | |
| --- | --- |
| Fall | | 09/06-12/21 |
| Spring | | 01/23-05/12 |
Campus Diversity
------
| | |
| --- | --- |
| 1st Nation/Native | | 0% |
| Asian | | 2% |
| Black | | 1% |
| Hawaiian/P.I. | | 0% |
| Hispanic/Latino | | 4% |
| Two or more | | 3% |
| White | | 90% |
| Other | | 0% |
| International | | 1% |