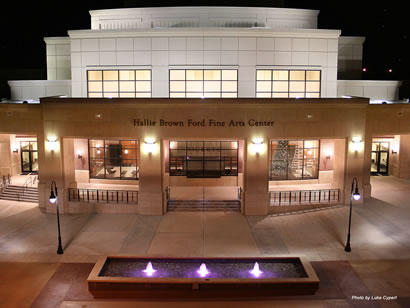 About This Campus
Sitting on 100 acres, the University has an average enrollment of 5000 students. The average class size of 25 offers personal attention from faculty members. Classes are not taught by graduate assistants. Particular strengthens are found in the high acceptance rates for pre-medicine students and success ratings of accounting students passing their CPA exam. Extremely high pass rates for nursing boards, and teacher certification, in addition to nationally accredited programs of environmental science and social work, provide many choices of quality education. Students may obtain a bachelor's degree from 119 programs and a master's degree from 18 offerings. The new Hallie Brown Ford Fine Arts Center has created many new cultural opportunities while enhancing all the fine art degrees. The University just cut the ribbon for a new 60,000 square foot School of Business Building.



Location Information
ECU is located in Ada, a city of 20,000, approximately 90 miles from Oklahoma City, 115 miles from Tulsa and 150 miles from Dallas. Our school environment is suburban, with the University located directly in the center.



Helpful Information
Weather: [FALL] The weather in OK is very versatile, so some days it can be warm and the next day cool. Autumn weather is typically 5 – 20 degrees Celsius. [SUMMER] Very versatile, so most days it will be hot but all Oklahomans use air conditioning, so you may feel cold at school or at home. Summertime weather is typically 25 - 39 degrees Celsius with an average daily temperature of 27 C.
2019/2020 Placement
------
2020/2021 Placement
------
Fast Facts
------
| | |
| --- | --- |
| Location | | Ada |
| Population | | 14,000 |
| Enrollment | | 4,950 |
| Language | | English |
| Calendar | | Semester |
| Canada | | Both (A/B) |
Term Dates
| | |
| --- | --- |
| Fall | | 08/18-12/12 |
| Spring | | 01/12-05/08 |
Campus Diversity
------
| | |
| --- | --- |
| White | | 63% |
| Black | | 9% |
| Hispanic/Latino | | 4% |
| Asian | | 3% |
| Native/1st Nation | | 18% |
| Hawaiian/P.I. | | 0% |
| Two or more | | 0% |
| Other | | 3% |