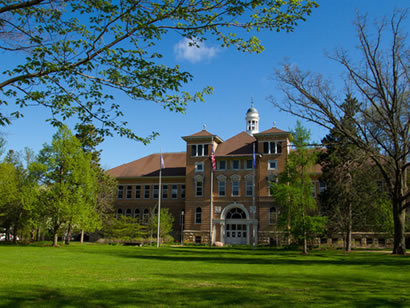 About This Campus
Located midway between Milwaukee and Minneapolis in the heart of Wisconsin, The University of Wisconsin-Stevens Point offers a wide range of academic programs to over 9,700 students. Students enrolled with the College of Letters and Sciences, College of Natural Resources, College of Fine Arts and Communications, and College of Professional Studies experience a student faculty ratio of 22:1 in the classroom, with one in five studying abroad by the time they graduate. The 400-acre campus features state of the art facilities coupled with the beautiful woodlands, marshlands, and meadow of Schmeeckle Nature Reserve. Stevens Point, located on the scenic Wisconsin River, hosts a population of 25,000 in a metropolitan area of 62,000. The Stevens Point campus and community offer a wide variety of cultural and recreational activities throughout the year.



Location Information
We are located in the heart of Wisconsin. By car, Madison is two hours to the south, Chicago 3 1/2 hours to the southeast and Minneapolis 3 1/2 hours to the west. We are on the banks of the Wisconsin River and the area is know for it's forest, lakes and farmlands.



Helpful Information
The campus is in the center of our small city. Certain majors, like Communicative Disorders, Wildlife and Biology, are currently over subscribed and getting classes may be difficult. Please contact the UWSP NSE coordinator for current information. 715-346-2717
2020/2021 Placement
------
Host Pay

ment (A)
Closed
Home Pay

ment (B)
Open
2021/2022 Placement
------
Home Pay

ment (B)
Excellent
Fast Facts
------
| | |
| --- | --- |
| Location | | Stevens Point |
| Population | | 26,161 |
| Enrollment | | 7,725 |
| Language | | English |
| Calendar | | Semester |
| Canada | | N/A |
Term Dates
| | |
| --- | --- |
| Fall | | 09/03-12/22 |
| Spring | | 01/21-05/16 |
Campus Diversity
------
| | |
| --- | --- |
| White | | 83% |
| Black | | 2% |
| Hispanic/Latino | | 3% |
| Asian | | 3% |
| Native/1st Nation | | 1% |
| Hawaiian/P.I. | | 1% |
| Two or more | | 4% |
| Other | | 3% |