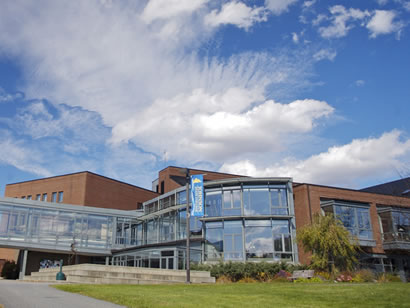 About This Campus
Johnson State College is a fully-accredited liberal arts college serving approx. 1800 students from Vermont, the Northeast, and a number of countries, studying in 29 academic majors and participating in over 50 clubs and organizations as well as 12 men's and women's varsity sports. The College strives to maintain small classes (average class size is 19) characterized by active student learning, careful attention to writing and other forms of expression, and close relationships with the faculty. The College's buildings include a Center for the Performing Arts, which features one of northern Vermont's largest stages and seating for 550, a brand new Visual Arts Center, an athletic/health facility, a Library Learning Center which provides students with significantly expanded library facilities, and a brand new state of the art Mac lab. JSC Students have access to the 1000-acre Babcock Nature Preserve, located in nearby Eden, Vermont, and is managed by JSC.



Location Information
A short walk down the hill to Johnson yields a number of places to eat and shop, including a cozy coffee shop, a bookstore, an art store, a grocery store, and the famous Johnson Woolen Mills and outlet store.In addition to regular cultural exhibits and performances on campus, the Vermont Studio Center, an artists' residency, invites the public to attend weekly art exhibits and readings given by nationally and internationally known writers and artists in all media. Johnson is a great place to get outdoors, the Lamoille Vally Rail Trail running through the town, as well as easy access to the renowned Vermont Long Trail. In the winter months, be prepared to play in the snow, as we are a short drive away from three major ski resorts.
Fast Facts
------
| | |
| --- | --- |
| Location | | Johnson |
| Population | | 3,526 |
| Enrollment | | 1,549 |
| Language | | English |
| Calendar | | Semester |
| Canada | | Both (A/B) |
Term Dates
| | |
| --- | --- |
| Fall | | 08/28-12/20 |
| Spring | | 01/22-05/16 |
Campus Diversity
------
| | |
| --- | --- |
| White | | 80% |
| Black | | 4% |
| Hispanic/Latino | | 3% |
| Asian | | 1% |
| Native/1st Nation | | 1% |
| Hawaiian/P.I. | | 0% |
| Two or more | | 4% |
| Other | | 7% |