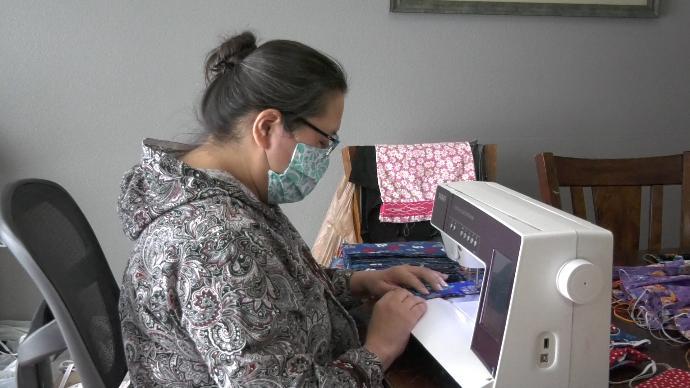 This week was potentially the most uneventful week I have had in Alaska. However, there were a few defining factors that made this week stand out a bit.
Recently I made a couple of new decisions in my life.! I decided to finally jump on the bandwagon and buy AirPods. Exciting right?. I have been waiting for a long time to get some and used the refund that I got from my meal plan and on-campus housing. I also made a physical change to my appearance. You know how a lot of girls seem to be doing crazy things with their hair while quarantined? Like cutting it themselves to a different length or giving themselves bangs? Well, I did not give myself a haircut, but I did dye my hair "midnight blue." I have been wanting to dye my hair blue for a while and I am glad that I was finally able to with a little bit of help from my cousin. I am really happy with the results.
My aunt recently made me a mask. She made one for everyone in our family and we made sure to wear them while out of the house. This is handy as our daylight hours are increasing each day. Currently, the sun rises around 6 a.m. and sets around 10 p.m. which equates to a whopping sixteen or more hours of daylight. Soon, the northern lights will no longer be visible. I seized the opportunity a few days ago to see the aurora borealis for probably one of the last times while I am up here.
My friend sent me some photos that night that the auroras were occurring. My cousin and I threw on sweatshirts and went small scale aurora chasing. We walked down the street to watch them before they slowly faded away.
Easter Sunday was this week. It was difficult to spend the holiday away from my family back home. I am used to larger family gatherings for holidays so it was bizarre spending this time with only three other people. Even though I did not get to see my family in person, I did talk on the phone with my grandma and video chatted with my mom, sister, and cousins. This is something I have done a lot recently and it helped to know they were also missing each other during this stay at home time.
Staying home and away from people all day every day has become increasingly difficult for me. With everything going on in the world right now, I know that everyone is struggling with something. In the past week, the importance of staying home has continued to be instilled into my life in seeing the number of people on my social media that continue to go out and hang out with people, not wear masks, and disregard the safety of others.
It is hard to not be near the ones I love, not seeing friends or anyone other than the few I'm staying with. I haven't seen my family in almost four months and won't see them again for almost another four months. This is hard for everyone.
However, I heard something recently that moved me to tears: Staying away from those you love is now an act of love. Take that to heart. If you're missing someone, don't just text them. Call them. Video chat with them. Write them a letter. I've gotten a few cards and a letter from some loved ones and honestly, it's more meaningful than a text. Let's all do our part and stay home because not only could it save lives, it WILL save lives.
Submitted by Sarah Staedy