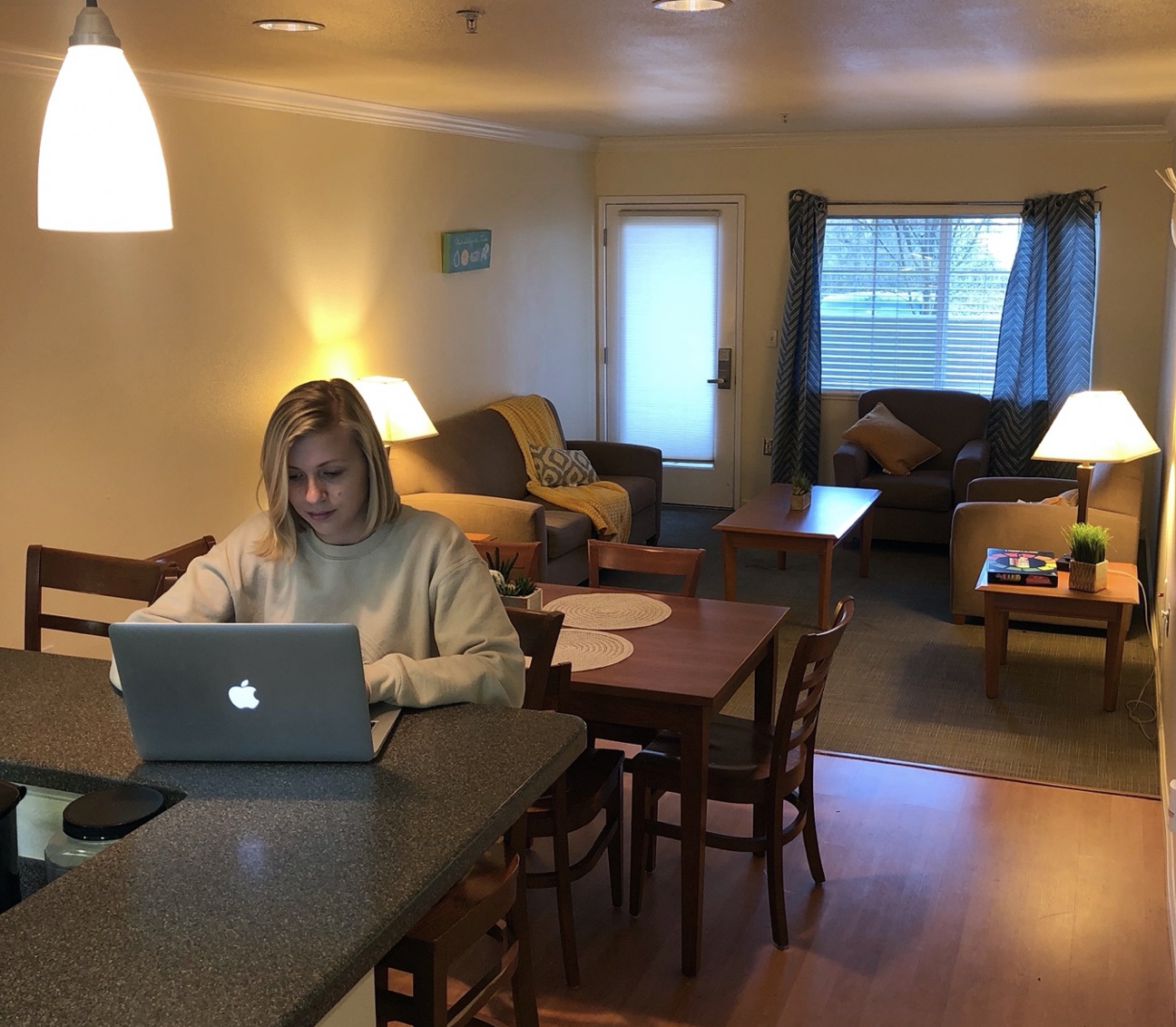 While I was doing my college search to figure out where I wanted to attend school this year for National Student Exchange, I came across Sonoma State University and their luxurious dorms. Now I am not saying that the dorms were the deciding factor when it came to the school that I attend, but they were an added bonus. Last year, as a freshman in college, I had your typical freshman dorm experience. I lived in a giant building that housed hundreds of students, shared a bathroom and kitchen with 72 other girls, and shared a very small bedroom with one other girl. This is much like many other college students' dorm experience. That is, except for Sonoma State University students.
Before I get into the details of the dorms and what makes them so luxurious, I do want to point out what they call the dorms here. Since Sonoma State University is in the heart of wine country in Northern California, it is only fitting to name all of the dorms after wines or regions in Italy. There are dorms called Zinfandel, Cabernet, Beaujolais, Verdot, Sauvignon, and Tuscany. I live in Tuscany which is known as the sophomore dorms. Not only are they named after wines and regions in Italy, but they are not even called dorms here. Sonoma State calls their housing "villages".
The walk from classes back to my village is one of the most peaceful walks I have encountered, and I get to make the walk multiple times a day. The sidewalks are lined with roses, vines, and various plants. I get to pass by two very peaceful water fountains with benches for sitting and relaxing. The ponds are usually filled with ducks as well. So, it is a beautiful walk to say the least, and definitely not the type of walk a lot of college students get on the way back to their dorms.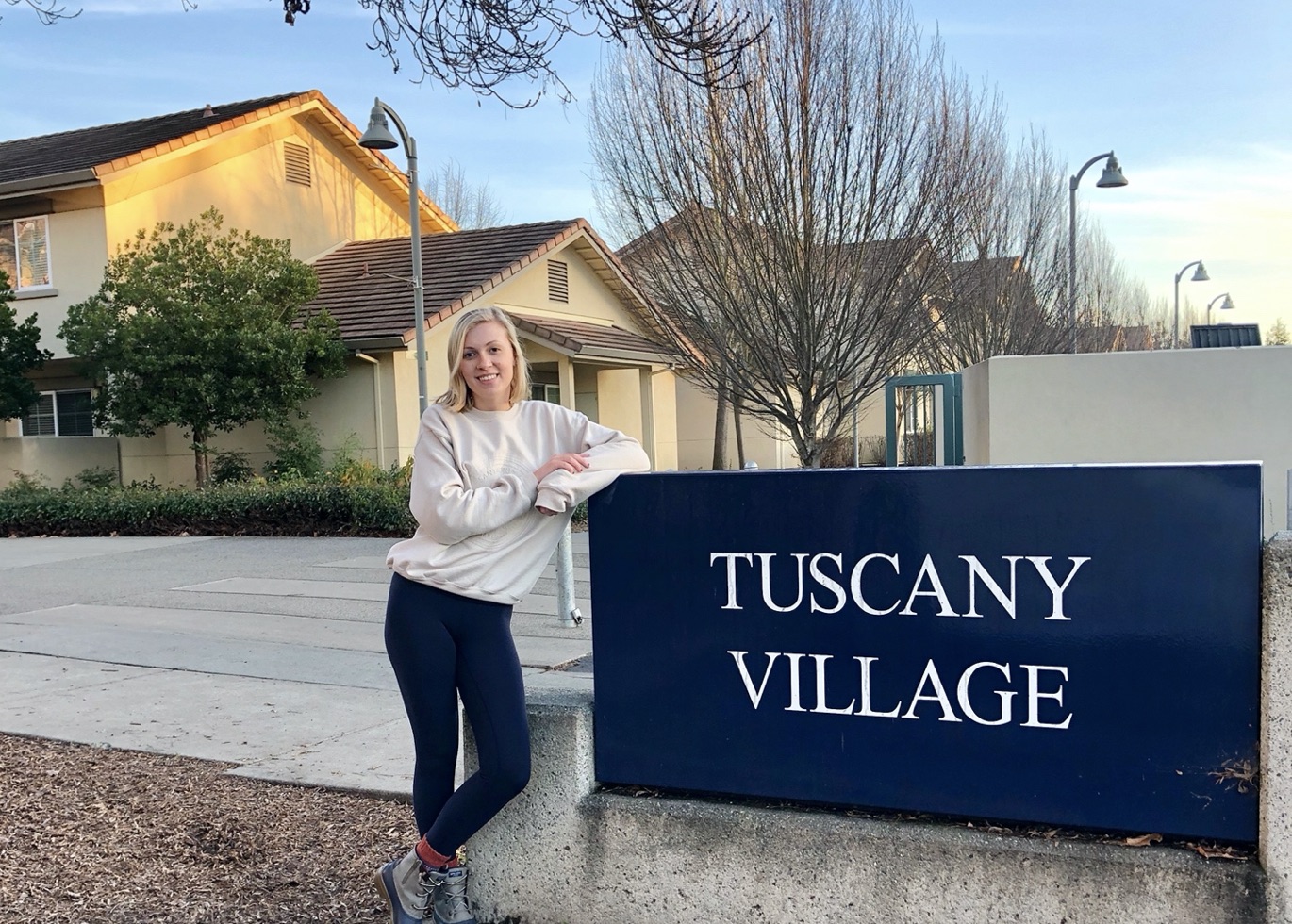 Being named after different wines and having a beautiful walkway are not enough to attract students to the housing here, but what is inside of the dorms definitely can. All of the villages here are apartment style. This means that you share a kitchen, living room, and dining room with about five or six other students. You also can get private rooms and bathrooms or share with one or two other people. All of the villages are fully furnished which is a big bonus. I share a living room and kitchen with four other girls and share a bedroom and bathroom with one other girl. This definitely beats sharing a bathroom with 72 other girls like last year!
If having fully furnished apartments, being named after wines, and a beautiful walkway was not enough to gain your interest, the villages also have pools. One pool is located by the freshman villages and there is another pool located right by my village. The pool area includes a huge hotel-sized pool, hot tub, lawn chairs, grill, and grass area. The pool area attracts a lot of students during the warmer months and Is usually very busy. I haven't seen anyone in the pool since last semester, but once it gets warmer out the pool will become a lot busier again.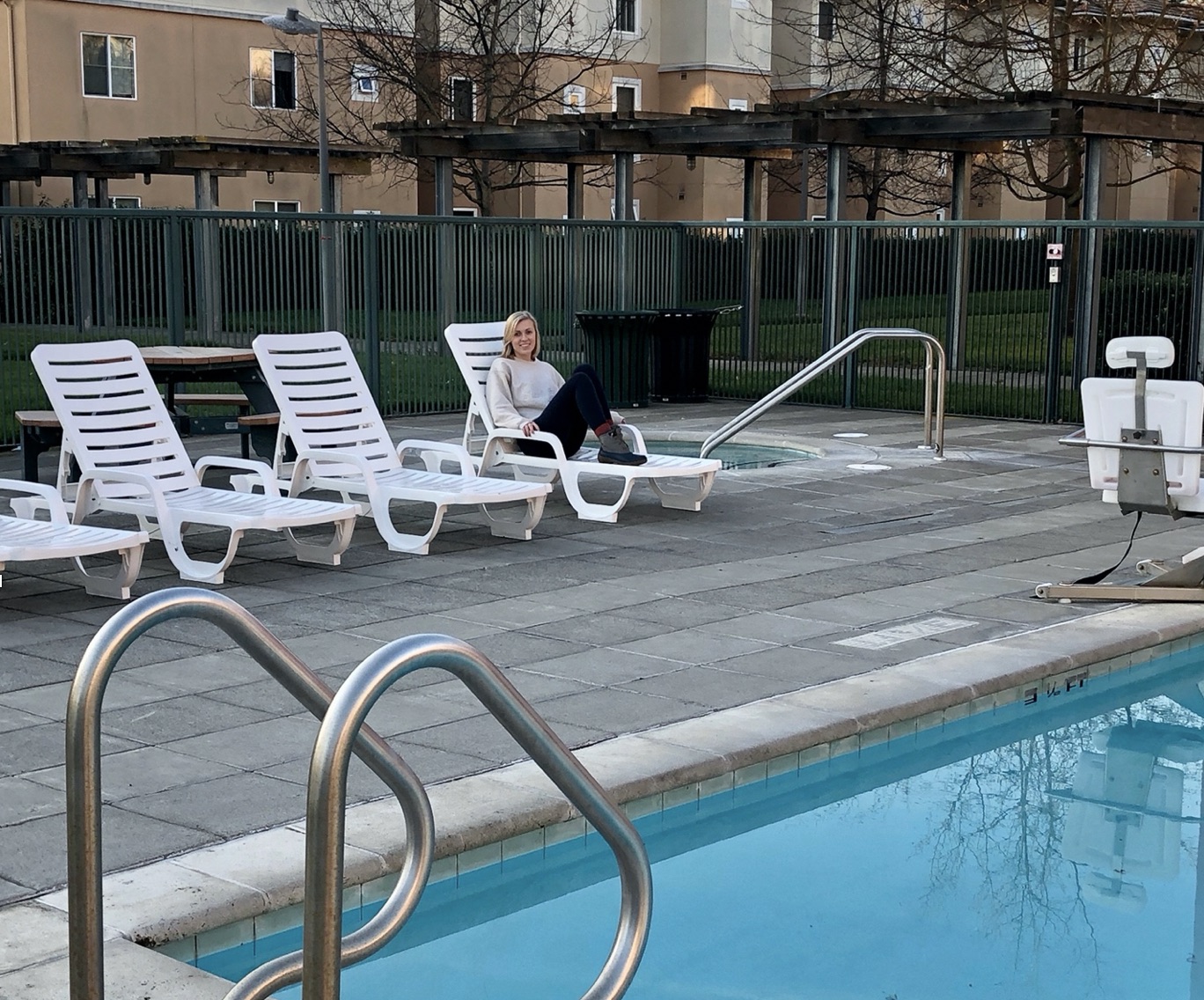 Although the villages here sound like regular apartment buildings with some awesome amenities, they are still university housing. We still have Residential Assistants keeping an eye on us, quiet hours, safety drills, and roommate agreements. One negative thing that I have noticed resulting from having such luxurious living quarters is that people do not ever want to leave their villages or rooms. We are located in such a beautiful area here in Sonoma County, but since the villages are so nice, people do not go out and explore the area. Because of this, I have noticed that I spend more time in my village and in my room than I need to. I made it my goal this year to get out and explore a new area of Sonoma County or even outside of this county each weekend. That way I get out of my room and my fully furnished living room to explore the area that I am in.
When you do NSE for either a semester or a full year, you have to rememeber that although the four to eight months seem to go by very slowly, you still have limited time where you are. Because of this, you should get out and explore where you are, get involved on campus, and take part in other activities while you can. No matter how nice the dorms or villages are, you should not spend all your free time locked away in your room.
Submitted by Brandi Norum