No words are sufficient to describe the acts leading to the unrest throughout our nation and the world. There will never be adequate language or adequate grief.
National Student Exchange stands with its Black students, coordinators, and community to affirm that Black lives matter.
Ending systemic racism will require that we step up like never before. National Student Exchange was founded in 1968, a time when our nation was searching to understand its identity, history, and how differences fit into the idea of our culture. Driven by our NSE values we will strive to recognize where and how we can do more. ~NSE
George Floyd took his last breaths shortly after 8:00 pm on Monday, May 25, 2020. His death in the custody of four Minneapolis police officers sparked protests across the city I have called home since 2002. Some protests turned destructive. At least 360 businesses report damage and 66 have been completely destroyed by fire. Some of these businesses are less than a mile from my house. With all of this fatiguing the hearts and minds of the residents of my city, I choose to look for the good:
The four officers involved in the killing of George Floyd have been charged.
Beautiful and righteous protests on racial inequality and police brutality have taken place across the Twin Cities, the U.S, and the world.
Millions of dollars have been donated to help support those most affected by the destruction. Many of these dollars are being directed to the immigrant and minority-owned businesses that bore the brunt of much of the damage. Housing and food insecurity are also being addressed.
The eyes of Minneapolis (mine included) have been opened to the racial injustices and inequities that have affected the lives of people of color, particularly African-Americans, in our city and nation. Many more people are listening, learning, advocating, and protesting.
And most importantly, systemic change is being talked about at all levels including government policy, policing policy, economic policy, and in the hearts and minds of people. This momentum must be maintained.
NSE was founded during the peak of the Civil Rights Movement. I believe that our founders thought greater connection and understanding between United States citizens was necessary to begin healing the social, cultural, and racial divides that plagued our country. Recent events in Minneapolis show these divides have not subsided. I believe my work with NSE is just as relevant today as it would have been in 1968. And must continue.
Submitted by David Holliday
David Holliday is NSE Coordinator for the University of Minnesota-Twin Cities and NSE Vice President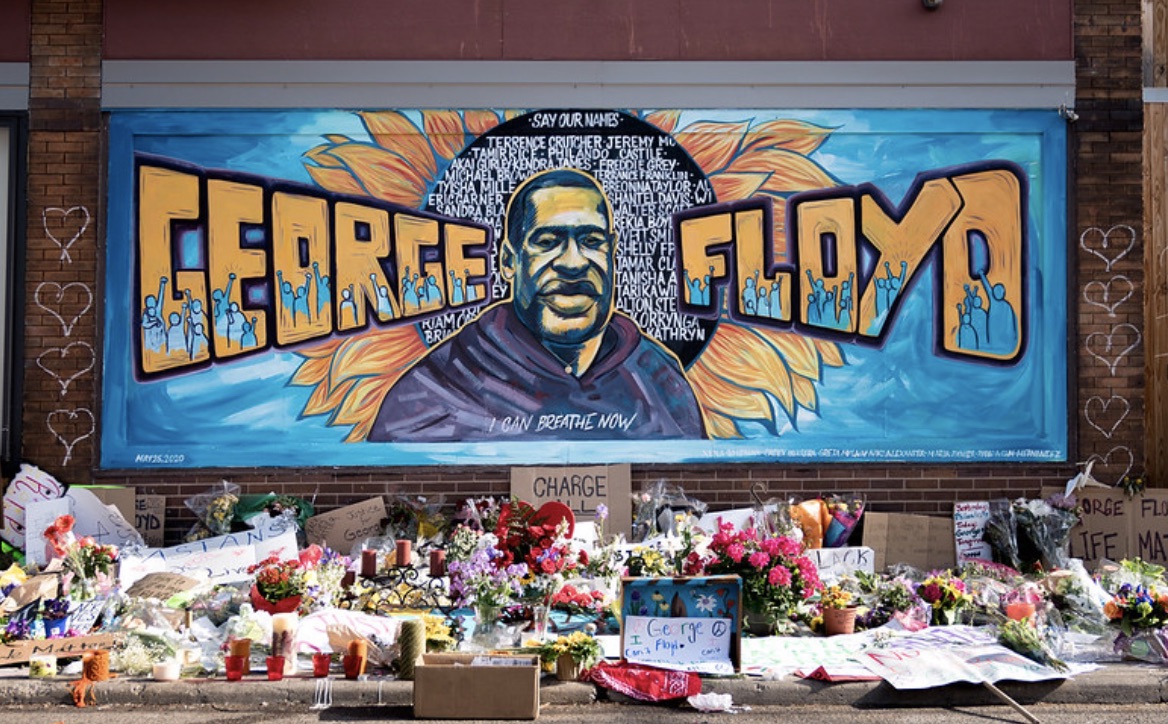 Mural created by Xena Goldman, Cadex Herrera, and Greta McLain. Assisted by Niko Alexander and Pablo Hernandez. Photo by Lorie Shaull.