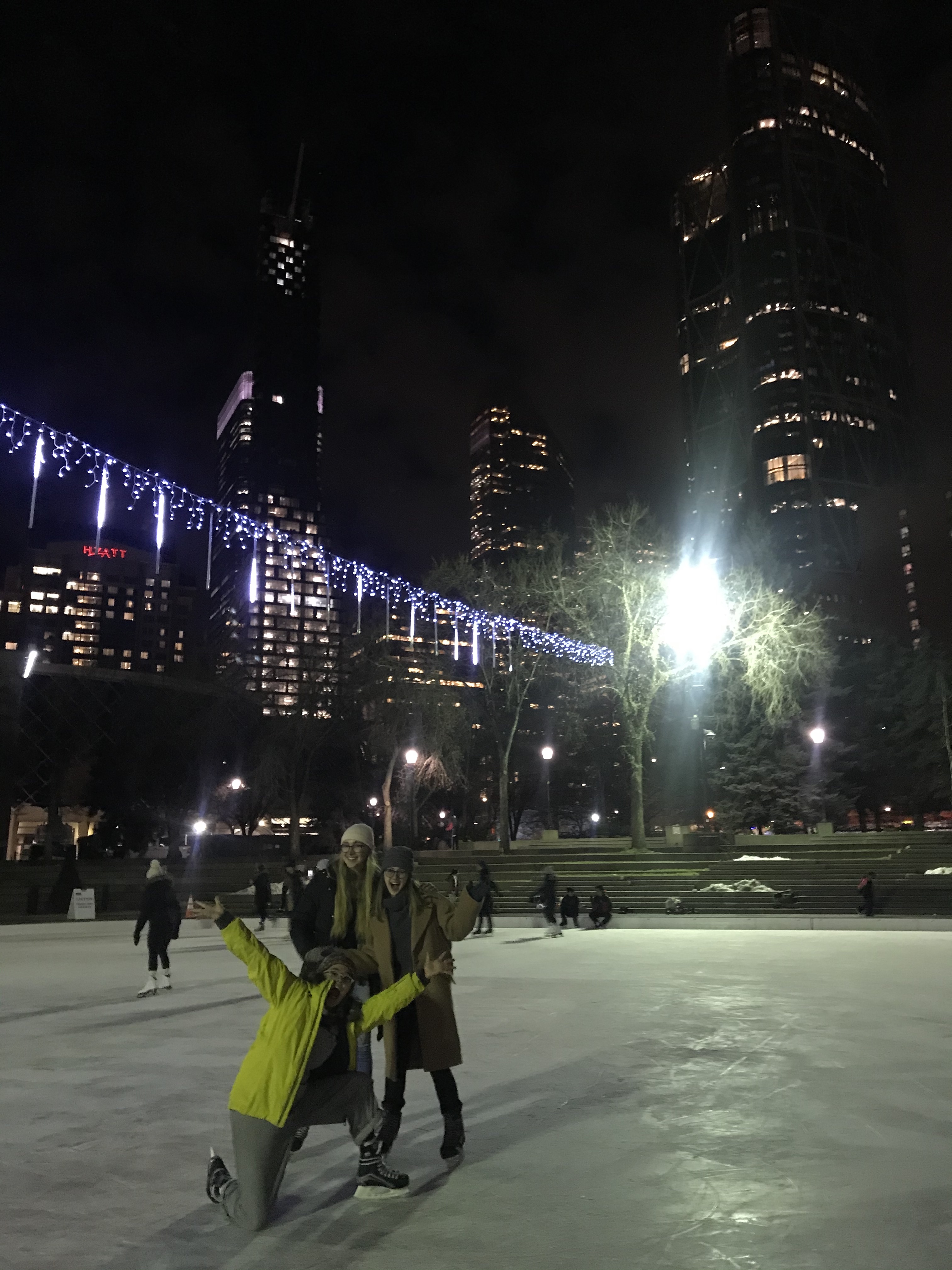 Sporting events can be a great way to spend time with friends, show some school spirit, and get a vibe for the university focus. Being in Canada, I knew I had to go to at least one hockey game whether that be professional, with our local team the Calgary Flames, or our school team. When we found out about the Crowchild Classic, we had to buy tickets. It is the biggest hockey game of the year between University of Calgary and our rivals Mount Royal University. Since it is such a big game and students from both campuses drive out to see it, the game is held at the Saddledome, where the Calgary Flames team plays. Everyone piled into the train from school to get to the stadium, filling it with red and yellow shirts (our school colors). Being a student, our tickets were only five dollars and the food and drinks were reasonably priced. We got lots of pizza, popcorn, and some people had a few beers. As the game proceeded there was lots of chanting and waves going through the crowd, all while they blasted amazing music in between plays. The hockey score was close all game, and additional contests between students from both schools contributed to the "final score" of the game. In the end, the game went into two rounds of sudden death and Mount Royal University won. Although we lost it was an amazing game and people continued to pile into the stadium for the women's game that followed. Both games were full of suspense and fun. As someone from California, I have never seen a hockey game in person, but I have a new love for the sport!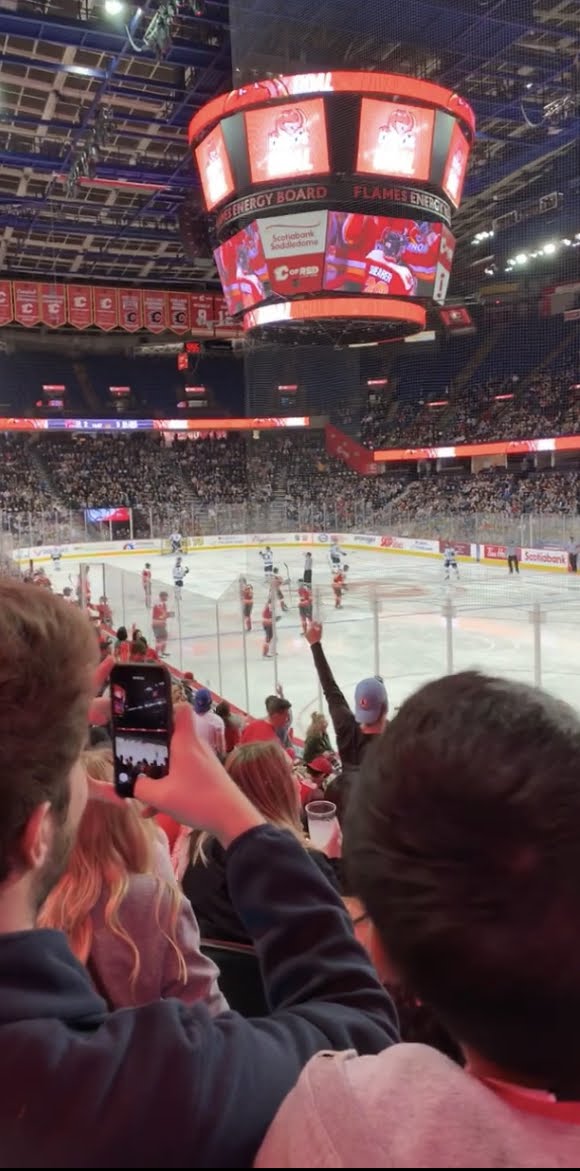 Other than hockey, I have also attended a football game and two basketball games this school year. Football isn't as big of a deal as it is in America, so the game wasn't very well attended nor did people care much about it. However, the basketball games so far have been full of excitement and school spirit. Growing up watching my brothers play the sport, I am very fond of watching basketball in person. My friends I got popcorn and I taught some of my Spanish friends the rules, since it is not a huge sport for them. While chanting and cheering isn't as big with basketball, the reactions from the crowd during and after plays make up for this. Both games I have attended the Dino's have won and everyone leaves the gym cheering and celebrating. The good part about these games is they are free to students and they don't end late, so you still have time to grab some food with friends or go home to study or finish schoolwork. My friends and I like to go to the Last Defense Lounge on campus after games to grab delicious pizza and beer. Since it is located in MacEwan Hall, it is only a five-minute walk indoors from the gym. While basketball may not be as big as hockey here, it is one of the sports people really enjoy, especially since sports like baseball, soccer, and football can't be played for too long during the school year due to harsh temperatures and snow. The snow doesn't stop volleyball and speed skating, which are played and practiced on a daily basis in the gym and Olympic Oval.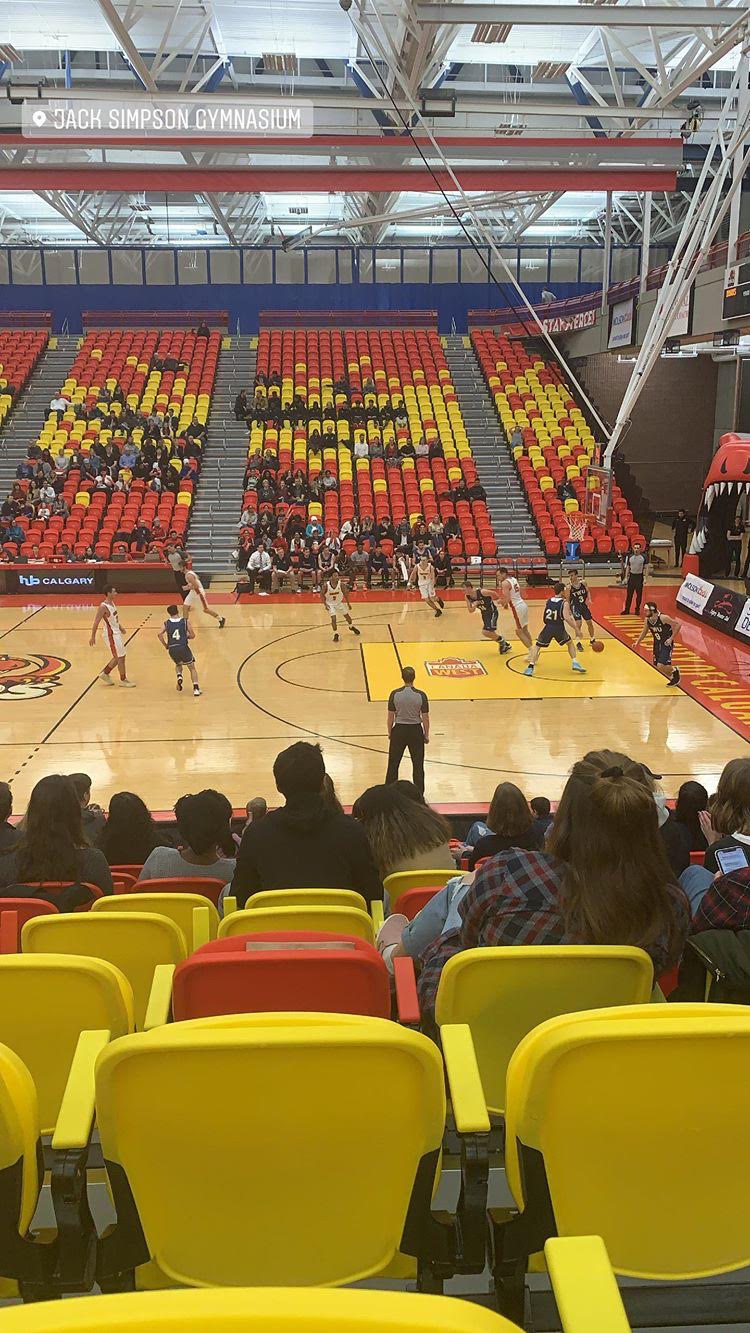 The Olympic Oval is an amazing place to visit if you are a fan of winter sports. The building includes installations of previous Olympic athletes, since Calgary held the winter Olympics in 1988. Many athletes trained at the Oval for years, and some of the Olympic events were held there. It is a special place to visit and skate and I have taken everyone who has visited me during my time in Calgary. The Oval now holds events such as hockey games, speed skating, and figure skating. During public skating hours there is a wide range of people skating, and you can usually expect to be outskated by at least one small child. Renting skates and a helmet is around $10, making it a cheap and amazing experience for everyone visiting Calgary.
Being a sports fan or participating can be a great way to connect with your new campus. Keeping an open mind about trying new things, whether it be watching hockey or ice skating for the first time, can make for a great experience. My roommate had never skated before and after trying it few times she has bought her own skates and is practicing regularly. You may find something you love to that extent, but you will create new memories.
Submitted by Caleigh Nordan