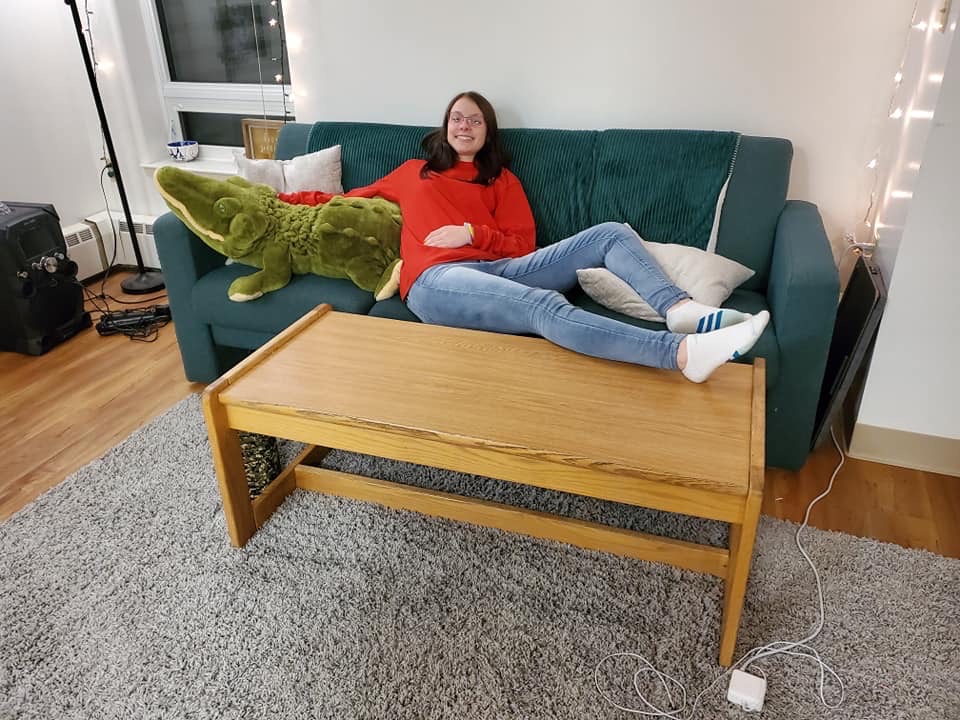 Hi there! I'm Sarah Staedy from Minnesota. My home campus is the University of Minnesota - Twin Cities and my host campus is the University of Alaska Fairbanks. I'm majoring in Business and Marketing Education, with minors in Psychology and Wildlife Care & Handling in hopes of someday opening my own nonprofit organization. I also love nature, animals, and the outdoors, which is what really sparked my interest in Alaska years ago.
I have not done much traveling in my life, so I was excited when I heard about the National Student Exchange. Not only did it give me the chance to go somewhere that I have always wanted to go, but it will help me check so many different things off my bucket list. Once I made my decision to go on exchange, everything kind of fell into place. After choosing to go to UAF, I realized that I wanted to experience as much of the Alaska living experience as possible. I chose to spend the summer here as well, so I will be here through the beginning of August. I did that in hopes of finding an internship here over the summer. I was really looking forward to it all, but I was also on edge.
Before I came up to Alaska, I was a little worried about my living situation. Which is normal. It seems as though the biggest fear of incoming college students is the residence halls and dorms. When I found out that I was going to have to live in on campus housing at my host college, I freaked out a bit. I could not live in a dorm room. I wouldn't adjust well at all in such a new and different place while living in a box. I was lucky enough to have lived in an apartment my first year and a half in college and I was determined to do just that in Alaska. I called the University of Alaska Fairbanks housing department asking to be placed in an apartment and got lucky once again. They had some open rooms and I got placed in Cutler Apartment Complex, the only student apartment building on campus.
Since I don't live in a dorm here, I don't know much about them. Moore, Bartlett, and Skarland (MBS) are the three main residential dorms on campus. All freshmen and exchange students live and they are all connected by a central ground floor lobby area. I have a few friends who are on exchange here that live in MBS that I have had meals with at the Wood Center, where the dining hall is. It's quite a weird set up, as they only have an "all-you-can-eat" option for dinner. Breakfast and lunch are pay by item, which was super bizarre to me, as I have never heard of a college dining hall like that.
Knowing those two that live in the dorms, I asked them about this place called the Cache. It is basically a convenience store with a whole bunch of different foods. They have fresh produce this semester, which is a big addition. The Cache is great for those living in MBS because you don't have to go outside and walk to the Wood Center if you want to eat. It is right in the doors when you walk in, and there are always people in the lobby and around the Cache that are friendly and easy to talk to.
Even knowing that, I was still quite nervous about it all. I didn't know my roommates, I didn't know what the apartment looked like, I didn't know where it was in relation to everything else on campus. There was a lot that I didn't know. I was a little on edge about it. I finally got an official email regarding my housing placement about a month after my phone call with information about my room and my roommates. I reached out to the three of them, Emma, Sage, and Maggie, via email with an excited greeting and my phone number. I eventually heard from all of them and it made me feel so much more at ease. They were all so nice.
I asked them countless questions about the apartment and packed accordingly. I didn't have to bring any dishes, as they had a lot. My mom and I did some digging around and we found that I have a relative up here. She was able to provide me with some things for my time here as well, so I had less stuff to pack and buy when I got here. It was definitely a really good decision to find someone I knew up here, as it made me feel a little more at home.
Moving in was honestly a bit of a struggle because my roommate Maggie and I had to move furniture around our room to accommodate me, as she had the room to herself last semester. She was incredibly flexible and welcoming which was really appreciated. My mom was able to help with some of the rearranging, too.
I was lucky enough to have my mom fly up to Fairbanks with me to help me get settled in. She helped me pack and unpack and shop for groceries. It also made leaving home a little bit easier. Don't get me wrong, I was super excited to come up here, but I was also kind of terrified to be away from my family and friends for so long. I cried a lot before I left. I also cried when I got here, and it was incredibly difficult to say goodbye when it was time for my mom to leave. I was worried about my classes and just normal "first day jitters."
I knew that decorations help me feel a little bit more at home, so I packed some to put up in my room. I brought a tapestry, some colorful string lights, and some photos that reminded me of home. I didn't put all my decorations up right when I got here, but when I did have all of them up, I really noticed a difference in my mood and comfort. They really helped me feel a lot more at ease and comfortable. Like I belonged here.
I am really starting to feel like I belong in Alaska at UAF. I'm making new friends and am making great memories. My excitement for this semester couldn't be more profound. I can't wait to see where this journey takes me and to share it with the world!
Submitted by Sarah Staedy