Finding good places to study is essential during college, as we all know, and it can be especially hard to find when you are in a new city. We all want to focus on the traveling, exploring, and hanging out with friends during our time on exchange, yet we also need to keep up with our school work. Personally, I have a bad habit of trying to study or do homework on/in my bed, where I can't really get anything done. I know many people who have this problem, studying in your room comes with many distractions and you have to be accountable for yourself. So this is why I made sure to explore my campus and city to find the places I am most comfortable and productive.
One of the most well-known study spots on the University of Calgary is an indoor atrium within the administration building. It is a beautiful and relaxing room with little distractions, since everyone there is studying or doing coursework as well. Another spot that may seem out of the way compared to the traditional library study spot, but it is definitely worth it. Since it's snowing and winter for most of the school year here, indoor gardens are not only common but much needed. One of the things I've missed most since coming here is lush greenery, while it is sunny almost every day the ground is still covered in snow and any sign of grass is pretty much dead. While part of the reason I moved here was for the snow, being from the "city of trees" Sacramento, I have never lived somewhere lacking greenery.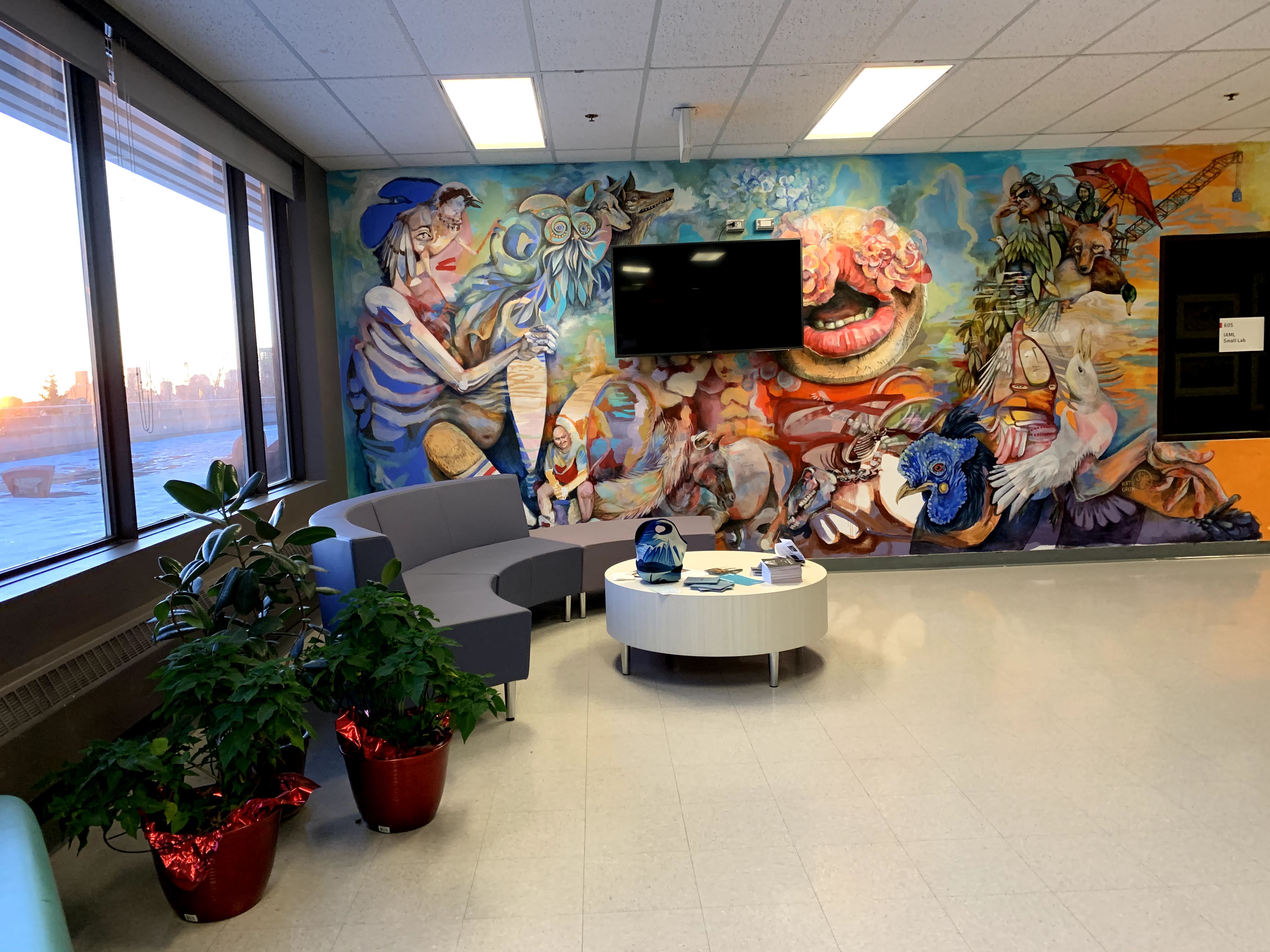 One of my favorite places to study is in the art building on campus, which has walls covered in the artwork of students. On the sixth floor there is a huge window looking out over the school and city next to a wall beautifully painted, by a professional. Early in the morning, at about 8 am, the sun rises over the window and the view is serene yet not so distracting it's hard to focus. Since I have a class in the art building twice a week, early in the morning, I like to get there early to eat breakfast before class and review notes or work on some homework. They also have a lounge area on the 6th floor with lots of comfortable spots to sit, a microwave, vending machines, and more. The lounge is very comfortable and welcoming, as most people there have just gotten out of classes or relaxing before running to their next class. While it may be out of the way for those who aren't in the art department or taking any art courses, it is one of my favorites and I will definitely return there to do homework for other classes as well.
While I believe studying on campus can be very nice, I also like to search for new study spots off campus. Since the city is filled with cute coffee shops, tea rooms, and multiple public libraries it is easy to find new places to work on school. One of my favorites is the downtown public library, which can be seen on most any Calgary blog, website, or social media platform. Each floor has a different theme and it is a welcoming place for all age groups, as there is not only a play area for children in the children's books section but there is an area for teens to safely hangout in the young adult area. They have multiple cafes to eat at within the library and it is on the outside of the center of the city, making it easily accessible by transit and perfect if you need to run errands after studying.
The final place I like to study, and have been going to more and more recently, is a coffee shop called Higher Ground. Located in a cute little shopping area called Kensington, it is kind of your stereotypical hipster cafe. They have amazing drinks and food, with very unique combinations, and relaxing music. They have lots of tables, couches, and windows that look up towards the other cute boutiques and salons. By train it is only two stops away from the university, surrounded by delicious restaurants, and is right near the closest grocery store to the school. It is easy to run there to do some housework, grab some food, and do a little grocery shopping before heading back to campus for the night.
Whether it be on or off campus I am a firm believer in needing a good study spot to be productive. While some people may be most comfortable studying in their room or house, finding a good space somewhere else can also help you get to know the city and school even better. Also, it can motivate you to keep working when surrounded by those who are also being productive and diligent about their college career.
Submitted by Caleigh Nordan