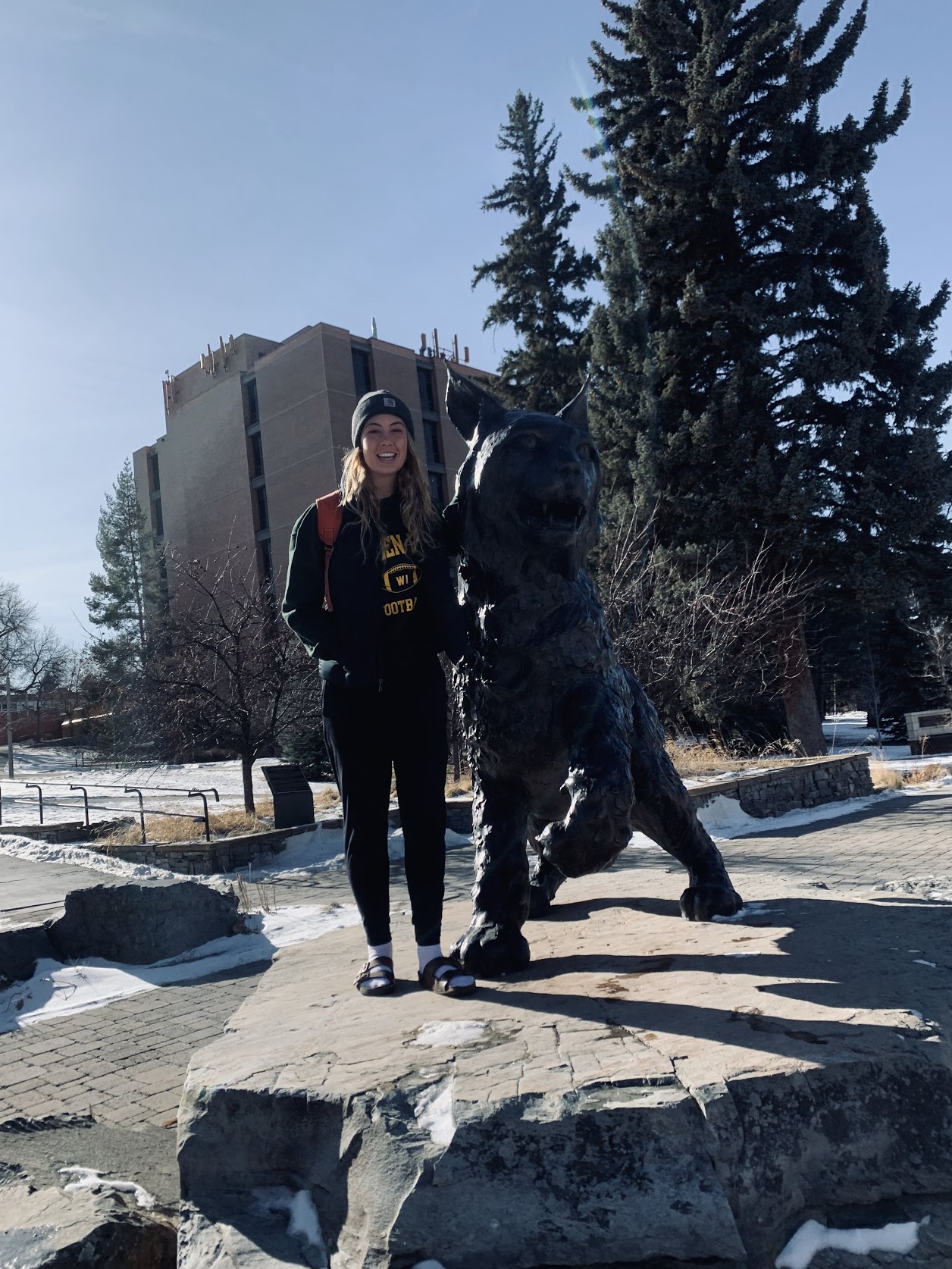 Hello! My name is Cathy Johnson and I am a sophomore this year on exchange at Montana State University. I started my exchange last semester and flew out to Montana in August 2019 and will be on exchange until May 2020. One of my favorite parts of being on exchange is the opportunity to travel. As I was getting ready for my sophomore year, I was also getting ready to travel to a new place. Flying on my own was already a new experience so it seemed slightly overwhelming at the time, but I am so thankful for the opportunity.
My freshman year at my home campus, I lived in the dorms so when I came to MSU and signed up to live in the dorms I knew what I was in for. I consider myself pretty lucky because I got the building that was right next to the dining hall and this really comes in handy when the temperature drops to single digits which is very common here! During the fall semester it was much warmer and I enjoyed sitting on the patio of the dining hall with the mountains for a beautiful view. The reason I chose a dorm versus living versus an apartment is because I wanted to meet a lot of people and make friends because I didn't know anyone here. The first week of classes I was very social and everyone is in the same boat just trying meet new people. Living on campus is a pretty unique experience because it allows you to get really close with your neighbors who are also your friends. I recommend getting involved when your RA host hall events because they are created to encourage people to meet other people and I personally have made some friends through this! Some of the events I've gone to include a facemask and hot chocolate night, karaoke, cookie making, and a destress from finals week event. I also participated in a basketball league that my dorm hosted so I met many people through that. I enjoy living close to my friends because when I need a break from homework or I just want to hang out with someone, my friends are just down the hall! My dorm is located on the edge of campus but is still close to the campus library and gymnasium so being close encourages me to use both resources more which is great for staying healthy and getting homework done!
The reason I decided to study at MSU was because I had never seen a mountain and coming here would allow me to continue my studies while also giving me the chance to live near the mountains. From my dorm window I can see the Bridger Mountain Range, one of my favorite features about where I live. I currently do not have a car, so I use the bus system here to go on adventures and it's nice to live on campus because the bus system is easy for students to access and its free to students. I plan on skiing a lot this winter and the campus has a bus route that is specifically for students who go skiing and snowboarding. Personally, I felt a sense of freedom because I get to come and go as I please and you get to decide what events you are going to participate in. Essentially, it is up to me to make this exchange memorable, so I try to be involved in as many different things as possible!
Submitted by Cathy Johnson